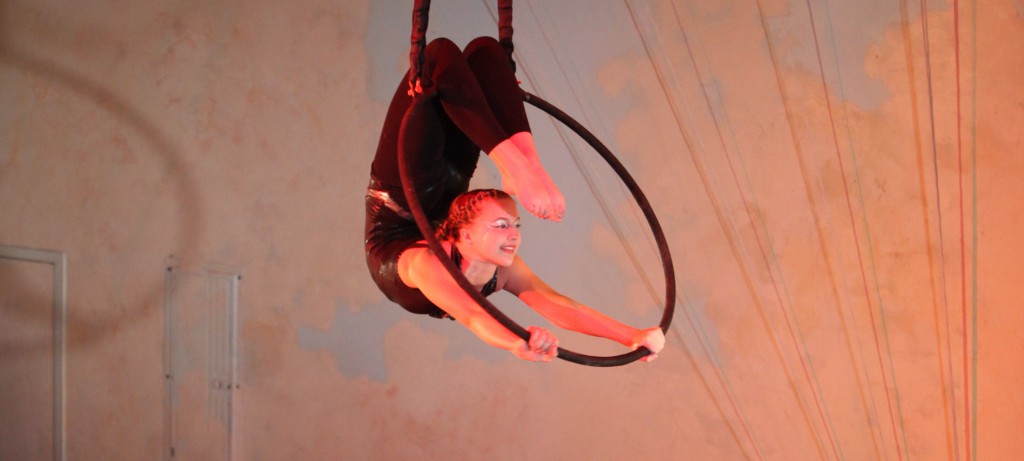 We are glad that you are here. Here is some information to help you know what to expect and to make your experience more enjoyable…
What to wear? ..
❉  Tight-fitting workout clothes with pants that cover the knees work well. Keep in mind that you will    be upside-down A LOT.  No pants with zippers or other metal.  Absolutely no jeans.  Men – please wear supportive undergarments.
  ❉  In cooler months a warm cover-up will keep your muscles warm between turns. In warmer months, it's nice to have a small towel.
  ❉  You will be barefoot in class.
  ❉  ALL jewelry is unsafe for you and for our equipment – please store it safely away until after class.
 What to bring? …
  ❉  WATER. It is very important to stay hydrated.  ❉  A notebook will help you remember your new skills.
  ❉  A positive attitude. Circus arts may be hard in the beginning; don't get discouraged! You will be amazed how much strength you will gain by the end of the session. Although it can be painful, circus is FUN! Keep trying, and remember that the phrase "I can't" is not in our vocabulary here at Xelias.
  ❉  An open mind.   We will challenge you.  Be open to trying new things.  We would never ask you to do anything unsafe.
Class etiquette …
  ❉  Be on time. Warming up is important. It helps you avoid getting injured. Be aware that a class or rehearsal may be starting immediately following yours. Help them start on time, too.
❉  Be clean and odor-free. Avoid perfumes, wear deoderant and clean clothes for the sake of others around you.
❉  Avoid lotions or oils on class days. They will make you slippery when you sweat and make the equipment slippery for the next person.
Safety? …